1 1/4 cups whole wheat pastry flour, plus more for dusting
1 teaspoon baking powder
1/2 teaspoon salt
4 tablespoons (1/2 stick) unsalted butter, at room temperature
1/4 cup granulated sugar
1/4 cup brown sugar
2 large eggs
1 teaspoon vanilla extract
1/4 cup almond meal
1/4 cup mini chocolate chips or chopped regular-size chocolate chips
1/4 cup pecans, finely chopped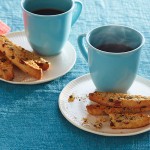 Instructions:
Preheat the oven to 350 degrees F. Line a large rimmed baking sheet with parchment. Sift the flour, baking powder and salt in a medium bowl and set aside. Cream the butter, granulated sugar and brown sugar in a second medium bowl using a hand mixer on high speed, about 3 minutes. Add one egg at a time, making sure to mix well before each addition. Add the vanilla and almond meal and mix. Add the flour mixture to the egg mixture and beat until combined. The dough will be thick and sticky. Fold in the chocolate chips and pecans. Transfer the dough to a lightly-floured surface; divide in half. Using floured hands, shape each piece of dough into a log about 10-inches long. Brush off excess flour; transfer the logs to the prepared baking sheet, spaced 5 inches apart. Flatten each log into a 2-inch-wide strip. Bake until browned and set, about 20 minutes. Transfer to a rack; let cool for 10 minutes. Reduce the oven temperature to 300 degrees F. Transfer the biscotti to a work surface. Using a serrated knife, cut each strip diagonally into 1/3-inch-thick slices. Arrange the slices cut-side down on baking sheets. Bake the biscotti, rotating the baking sheets halfway through, until crisp, about 30 minutes. Transfer the baking sheets to racks and let cool completely. Biscookies can be made 3 days ahead. Store in an airtight container at room temperature.