Chicken-Basil-Tomato Bruschetta
1 baguette
1 tablespoon olive oil
1 tablespoon vegetable oil
Kosher salt and freshly ground black pepper
1 1/2 cup rotisserie chicken, shredded
1 cup tomatoes, seeded and diced
3 tablespoons basil, chopped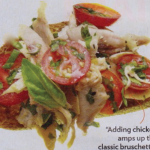 Instructions:
Preheat the oven to 350 degrees F. Slice the baguette, on the bias, into thin slices. In a small bowl, mix the oils and salt and pepper, to taste. Using a pastry brush, lightly coat 1 side of bread slices with the oil. Arrange on a sheet tray and bake until golden brown, about 8 to 10 minutes.
Combine shredded chicken, tomatoes and basil in a medium bowl. Season with salt and pepper to taste.
Divide mixture evenly over toasted baguette slices; drizzle with olive oil and balsamic vinegar.