Cheesy Pull-Apart Whole Cauliflower
1 medium head of cauliflower (about 11/2 pounds), trimmed of leaves
1 tablespoon unsalted butter, softened
2 tablespoons mayonnaise
¼ cup grated parmesan
2 cloves garlic, pressed or finely minced
1 tablespoon hot sauce or buffalo sauce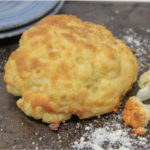 Instructions:
Preheat the oven to 400 degrees.
Turn the cauliflower upside down and gently cut out the bulk of the core, leaving a triangle-shaped indentation at the bottom of the cauliflower.  Add an inch of salted water to a large pot and bring to a boil.  Place the cauliflower right side up in the pot and cover the pot to steam the cauliflower until tender, but still firm (not mushy), about 7-10 minutes, depending on the size and age of the cauliflower.  Test with a slim sharp knife.  Once the cauliflower is done, remove it from the pot and place on paper towels to cool.
Meanwhile, in a small bowl, mix together the butter, mayonnaise, parmesan cheese, garlic and hot sauce.  Blot the cooled cauliflower with paper towels.  Coat the outside of the cauliflower with the cheesy mixture, using your hands to coat the whole head.  Place the cauliflower on a baking tray lined with foil or parchment.  Bake until the cauliflower is golden brown, about 15 minutes.  Let cool a few minutes before serving.  Serve with forks or as finger food.