½ cup sliced shallot (about 2 large shallots)
¼ teaspoon dried rubbed sage
2 teaspoons unsalted butter
2 teaspoons flour
1/2 cup dry white wine
1/2 cup chicken or vegetable broth, divided
4 ounces Neufchatel cheese ("light cream cheese")
½ cup shredded gruyere cheese
1 tablespoon lemon juice
½ teaspoon dried mustard
pinch ground nutmeg
pinch ground black pepper
1 cup cooked white beans, drained and rinsed if canned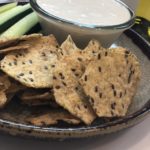 Instructions:
Cook the shallot and sage in the butter in a medium skillet over medium heat, until shallots are soft (but not brown), about 5 minutes.  Sprinkle the flour and over the shallots and cook for 1 minute, stirring. Deglaze the pan with the wine, and let bubble for a minute to let the alcohol evaporate.  Add ¼ cup of the broth and stir.  Add the Neufchatel cheese and stir as it melts and creates a thick, creamy mixture, about 1-2 minutes.  Stir in the gruyere cheese and turn off the heat – it will melt with the residual heat.  Let mixture cool a few minutes.  Meanwhile, place the remaining ¼ cup broth, lemon juice, dried mustard, nutmeg, pepper and beans in a blender.  Blend on high until smooth, about 30 seconds.  (If bean mixture is too thick to blend, add a tablespoon of water.) Scrape the cream cheese mixture into the blender and blend all together until very creamy, about 30 seconds.  Serve warm, room temperature or cold.