Nonstick cooking spray
3 small or 2 large ripe bananas, halved lengthwise
2 tablespoons sugar
1 cup ice
1 cup vanilla ice cream
1 cup milk
1 teaspoon vanilla extract
1/2 teaspoon ground cinnamon, for garnishing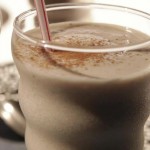 Instructions:
Preheat the oven to 400 degrees F. Spray a baking sheet with cooking spray. Place the bananas on the sheet and sprinkle with the sugar. Bake the bananas until the sugar is caramelized, about 15 minutes. Let the bananas cool slightly. Mix the ice, ice cream, milk, vanilla and bananas in a blender until smooth but still thick. Pour the shake into 4 chilled glasses and sprinkle with the cinnamon.