6 small or 4 medium tart apples
7 ounces caramel candies (about 28 candies)
Nonstick cooking spray
1 teaspoon vanilla
Special equipment: candy sticks (or craft sticks, or use a plastic fork)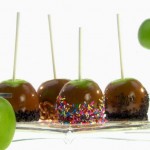 Instructions:
Cook's Note: Optional toppings for the apples include crushed pretzels, mini chocolate chips, rainbow sprinkles, marshmallows and crushed graham crackers, chopped nuts, chopped pecans and cinnamon and sugar. Wash the apples well to remove their waxy coating. (If very waxy, dip for one second in boiling water and then wipe.) Melt the caramels in a small saucepan with 1 tablespoon water over medium-low heat until smooth. If melting in the microwave, place the caramels and water in a 4-cup liquid measuring cup. Microwave until smooth and melted, 1 1/2 to 2 1/2 minutes, checking and stirring every 30 seconds. Line a baking sheet with wax paper and spray with nonstick spray. Once the caramel is smooth, stir in the vanilla. Dip the apples into the caramel one at a time (be sure they are dry), and tip the cup to help coat the apples. Let the excess caramel drip off, and use the edge of the cup to help remove the excess. Dip the apple in the topping of your choice and let it rest on the wax paper. Refrigerate for at least 15 minutes before serving.