Canned Tomato Chicken (instant pot recipe!)
1 14 ounce can diced tomatoes
1 teaspoon smoked paprika
1 teaspoon dried Italian herbs
1/4 cup chopped yellow onion
3 cloves garlic, minced
8 boneless skinless chicken thighs
1/4 cup heavy cream or 2 tablespoons butter (or both!)
salt and pepper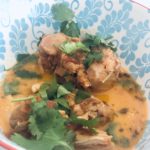 Instructions:
Place the tomatoes (with juice), paprika, Italian herbs, onion and garlic into the cooking liner of the instant pot (or other electric pressure cooker) and stir to mix.  Season the chicken thighs with salt and pepper, and place onto the tomato mixture, and stir to coat.
Cover with the lid, and close the pressure valve.  Cook for 10-12 minutes on high (add 3 extra minutes if thighs are frozen), and let steam release naturally for 10 minutes.  Carefully uncover and whisk in butter or cream.  Top with parsley or cilantro and serve.
NOTE: If you want to thicken the sauce after removing the lid, let it simmer uncovered a few minutes to reduce (use "saute" button).
NOTE: you can also make this dish in a slow-cooker, cooking on high for 3-4 hours.