1 eggwhite
3 tablespoons spicy buffalo sauce (like Frank's, or hot chili sauce)
1 teaspoon smoked paprika
1 ½ teaspoon granulated garlic
1 pound lean ground beef (95% lean)
1/2 cup blue cheese crumbles
½ cup whole wheat panko breadcrumbs (or plain breadcrumbs)
¼ teaspoon salt
¼ teaspoon black pepper
Oil mister, or nonstick cooking spray
Basting sauce:
1 tablespoon melted butter
3 tablespoons spicy buffalo sauce
Extra sauce for dunking, if desired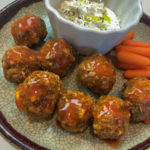 Instructions:
Preheat the oven to 375 degrees and line a baking sheet with parchment paper. In a large bowl, use a fork to mix together the eggwhite, buffalo sauce, paprika, garlic and salt and pepper until blended.  Add the beef and mix well with your hands.  Then mix in the blue cheese and breadcrumbs.  Let sit for five minutes.  If mixture is too wet to form into balls, add in another tablespoon or two of breadcrumbs.  Form the meat into golf-sized balls, and place on lined baking sheet.  (Or use a mini-muffin pan sprayed with nonstick spray.)  Spray the meatballs lightly with oil from the mister (or nonstick spray).  Bake 15 minutes and then remove from the oven.  Mix together the melted butter and buffalo sauce in a small bowl. Turn the meatballs, and brush with the basting sauce.  Return to the oven until cooked through, about 5 more minutes.  If desired, toss the meatballs in extra sauce in a large bowl (optional, but tasty and messy!).