2 tablespoons unsalted butter
2 tablespoons all-purpose flour
1 1/4 cups whole milk, warm
Salt and freshly ground black pepper
1/4 cup blue cheese crumbles
2 ounces cream cheese, room temperature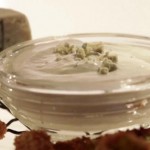 Instructions:
Melt the butter in a heavy-bottomed saucepan. Stir in the flour and cook, stirring constantly, about 1 minute. Add the warm milk. Continue to stir as the sauce thickens. Bring the sauce to a boil. Sprinkle with salt and pepper. Lower the heat and cook, stirring, 2 to 3 minutes. Stir in the blue cheese and cream cheese and cook, about 2 minutes until the cheese is completely melted. Serve immediately.