Nonstick spray, for coating the ramekins
3 cups fresh baby spinach leaves
1 tablespoon unsalted butter
Salt
¼ cup cooked bacon or breakfast sausage
4 eggs
1/2 cup shredded cheddar, jack or mozzarella cheese
1/2 cup heavy cream
Toast or baguette, for serving
Special equipment: Four 6-ounce ramekins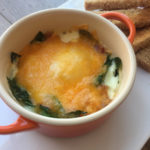 Instructions:
Position the oven rack about 8 inches from the top and preheat to 375 degrees F. Spray the ramekins with nonstick spray. Lay the spinach into the ramekins and spoon the bacon on top. Create a well in the center of each ramekin. Break 1 egg into the well. Top the eggs with the cheese, and then the cream and sprinkle with salt and pepper. Place the ramekins on a baking sheet and bake, about 8 minutes. Watch the eggs very carefully to make sure they don't burn. Let the ramekins cool for 1 minute before serving with toast or baguette for dunking.