3 large chicken cutlets, sliced into thin paillards (slice while partially frozen)
Kosher salt and freshly ground black pepper
1/2 cup all-purpose flour
3 tablespoons vegetable oil
1 medium sweet onion, sliced
1/2 pound mushrooms, sliced
1 yellow bell pepper, seeded and julienned
2 tablespoons tomato paste
1/2 cup white wine
1/2 cup beef broth
1 (14-ounce) can chopped tomatoes
1/2 tablespoon butter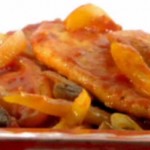 Instructions:
Season the chicken with salt and pepper, to taste, and lightly dredge in flour. In a large saute pan, heat the oil over medium-high heat and add the chicken. Brown on both sides, until nicely golden, about 3 minutes per side. Remove from the pan and set aside on a plate. In the same pan, add more oil, if needed, along with the onion, mushrooms and peppers and saute until softened and fragrant, but not limp, about 5 minutes. Season with salt and pepper, to taste. Stir in the tomato paste and cook a few minutes to cook out the raw flavor. Turn up the heat, and add the wine/wine to deglaze the pan and let it reduce for 2 or 3 minutes. Add the beef broth and tomatoes. Once the mixture begins to bubble, add the browned paillards and any juices from the chicken and reduce the heat to a simmer. Cook until the chicken is warmed through, about 3 minutes. Turn the heat off and stir in the butter. Transfer to a serving platter and serve immediately.