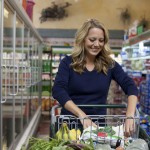 Watch Melissa's New FoodNetwork.com Web Series
"SMART CARTS: WINNING THE SUPERMARKET"
The average American household spends $1,000 a month on groceries. In a new FoodNetwork.com web series "Smart Carts: Winning the Supermarket" (www.foodnetwork.com/smartcarts), Melissa d'Arabian helps you make the most of your money with her tried-and-true strategies for shopping the grocery store with budget, time, and health as her top priorities. Aisle-by-aisle, Melissa offers quick and helpful tips on finding value and quality, stretching your budget and getting the most out of every ingredient. Get Melissa's top five tips in eight categories: produce, meat, dairy, freezer, organic, gluten free, budget shopping, and efficient store navigation.
"Smart Carts: Winning the Supermarket" is part of FoodNetwork.com's Smart Shopping package. Share feedback on social media using @melissadarabian @foodnetwork #SmartCarts.
This web series launches on the heels of Melissa's newest cookbook, Supermarket Healthy, in which she proves healthy home cooking is easy, achievable, and affordable. With these 130+ recipes, Melissa demonstrates the neighborhood grocery store has everything we need to make healthy, delicious meals for our families, and we can do it all without breaking the bank.
Watch all eight videos at www.foodnetwork.com/smartcarts, or click a webisode title below for direct access to that video.
On a Budget – Melissa shares her top 5 tips for budget grocery shopping. Find out what should drive your weekly menu planning and why size matters when it comes to your cart. Learn what price to pay attention to, how to use the bulk aisle in a new way and how to save even on already budget-friendly items.
Produce Aisle – Melissa shares her top 5 tips for shopping the produce aisle including why to shop there first, why cheaper is better, and how to splurge smart. Plus, how to capitalize on two-for-one in a new way.
Dairy Aisle – Melissa shares her top 5 tips for shopping the dairy aisle including where to find the best bargains, when to stock up, what you should freeze, and what unexpected item you can find there for 50 percent off.
Meat – Melissa shares her top 5 tips for saving money on meat, often the most expensive item in your cart. She'll tell you why to shop the loss leader and not the manager's special as well as how best to handle the value packs. Plus, why befriending the butcher and being flexible with your cuts of meat are musts!
Frozen Food Aisle – Melissa shares her top 5 tips for the frozen food aisle. Find out her three go-to items and her thoughts on which products you can DIY as she debunks frozen veggie myths and shares surprising ways to prepare the veggies too. Plus, how to get your ice cream on the cheap.
Demystifying Organic – Melissa shares her top 5 tips for shopping organic on a budget from how to prioritize your produce and what to look for in the freezer aisle to smart strategies for purchasing organic dairy and meat.
Gluten Free – Melissa shares her top 5 tips for shopping gluten free. One of her daughters is gluten sensitive, so Melissa has been navigating the GF world and is often asked about this topic. She guides the newcomer by debunking a few common myths and sharing how best to prepare for a GF guest in your home. Melissa also touches on how to better navigate the gluten-free aisle, opt for naturally gluten-free items, know the common gluten-containing products, and find GF bread in the store (in an unexpected place!).
Supermarket Logistics: Getting In and Out – Melissa shares her top 5 tips for navigating your supermarket efficiently to get you in and out without wasting time or money. Find out how to stay focused, handle free samples, maximize your time in the checkout line, and even how a piece of gum can save you money (and calories!).
About Melissa d'Arabian: Food Network star, best-selling author, writer, and mom of four Melissa d'Arabian is an expert on affordable and healthy family home cooking. Well known for her "Ten Dollar Dinners" show and New York Times best-selling cookbook, she also hosts Food Network web series "The Picky Eaters Project" and "Smart Carts" and serves as a lead judge on Food Network's primetime competition series "Guy's Grocery Games". Melissa writes a nationally syndicated weekly food column for The Associated Press and is also a regular contributor to Food Network's FN Dish blog. Available now, her new "Supermarket Healthy" cookbook proves healthy home cooking is easy, achievable, and affordable. Stay in touch with Melissa on Facebook, Twitter, Instagram, Pinterest and on her website www.melissadarabian.net.