CHEFD.COM OFFERS FOUR MEALS FROM MELISSA D'ARABIAN
Thanks to Chef'd, you can now buy four of Melissa d'Arabian's flavorful meals to cook up at home any night of the week.
— Check out all four meals here. —
** Share your thoughts on social media:  @melissadarabian  //  @get_chefd  //  #GetChefd  //  #ShowUsYourChefd **
Chef'd: The First and Only Meal Store
Chef'd (www.chefd.com) is an at home, high quality ingredient meal store that partners with celebrated chefs, media outlets and culinary influencers to create recipes that make it easy for anyone to cook like a pro at home. Chef'd was created to help consumers rethink the home cooked meal by offering fresh, pre-portioned ingredients that aim to eliminate food waste and in turn cut consumer grocery costs, all without the hassle of subscription or membership fees. Chef'd branded recipes are currently available from noted chefs, health experts and renowned media publications.
How Chef'd Works
Browse recipes from your favorite chefs and brands at Chefd.com to cook in the comfort of your own home.
Fresh pre-portioned ingredients will be delivered directly to your door.
Order and re-order whenever you want; no subscription required.
Enrich your life by creating memorable delicious experiences of love through our hand-cultivated recipes. 
**SPECIAL LIMITED-TIME OFFER FOR MELISSA'S FANS**
**GET $10 OFF YOUR ORDER WITH PROMO CODE TASTY10 (available 8/25/15-9/8/15)**
+ Plus: Chef'd Offers Free Shipping for All Orders Over $40 +
Weeknight Chicken Pad Thai
$25 (Dinner for two); $37 (Dinner for four)
This quick homemade Pad Thai is a healthier and fresher version of a takeout favorite, and it's ready in just minutes. The secret to stir-fry is having all your ingredients ready and using high heat so the dish comes together fast. The rice noodles are gluten-free, so this is a perfect weeknight dinner for my daughter, who can't eat wheat.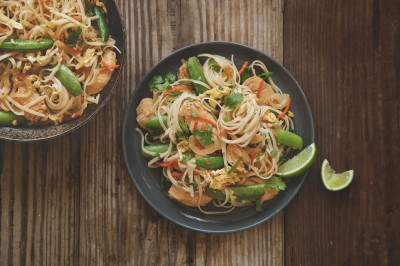 Mustard-Glazed Mushroom Burger with Roasted Potatoes
$30 (Dinner for two); $42 (Dinner for four)
This umami burger will make you feel like you are eating in a trendy restaurant, without having to leave home (and for a lot less money)! With sautéed mushrooms and a Dijon mustard glaze, this pairs nicely with these crispy, golden potatoes. No need to fry for that perfect texture – the clever dual temperature baking process is the secret to a fluffy potato inside and perfectly-crisped outside.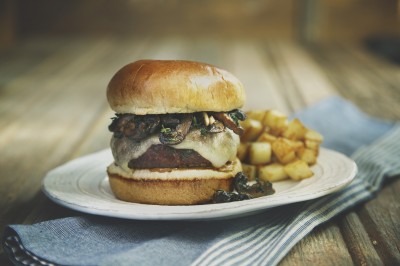 Snapper with Fennel, Onion and Tomato + Couscous, Mint and Peas
$39 (Dinner for two); $77 (Dinner for four)
Healthy, filling and simple to prepare, this dish is easy enough to make for weeknight family dinners, yet sophisticated enough for entertaining. The bright green peas pair perfectly with the fresh mint in the couscous. I love this time-saving dish any night of the week, and it's also great when company comes. The colorful vegetables make the presentation extra beautiful in this surprisingly quick dish.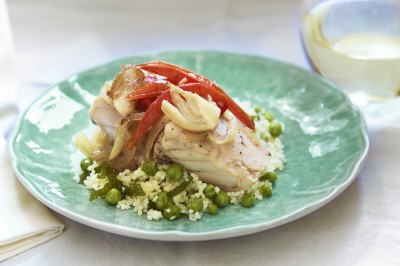 Asian-Marinated Pork Chops with Cucumber Carrot Salad
$28 (Dinner for two); $40 (Dinner for four)
Pork chops are incredibly versatile and quick for weeknight cooking. The pork takes on the sweet and savory notes of the marinade quickly, and the fresh ingredients in the salad dressed with a sweet and spicy Asian-style vinaigrette create a cool counterpoint. If you find yourself with leftovers, chop the pork into cubes, add the carrot cucumber mix and toss into a bed of greens. Add a little olive oil, some rice wine vinegar, a splash of soy sauce and squeeze of lime for a fantastic lunch!