"THE PICKY EATERS PROJECT: MELISSA'S MEALTIME REDESIGN" DEBUTS ON FOODNETWORK.COM
Melissa d'Arabian Shares Her Step-By-Step Approach To Combatting Picky Eaters
in a First-of-Its-Kind Web Series Featuring Her Four Daughters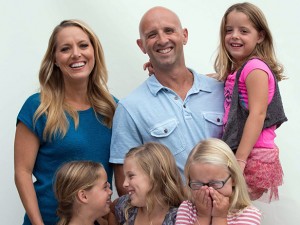 Rooted in many complex issues, picky eating is an all-too-common problem that requires more than just a smattering of tips and tricks to solve it once and for all. Mom of four young daughters (each with their own likes and dislikes, of course!), television host and cookbook author Melissa d'Arabian is just like so many of today's parents: dealing with picky eaters and seeking a long-term solution but coming up empty-handed. So, she decided to take matters into her own hands by developing a strategic, step-by-step approach to combat the daunting issue: "The Picky Eaters Project: Melissa's Mealtime Redesign" – a FoodNetwork.com web-exclusive series available now at FoodNetwork.com/PickyEaters. Just as the best diets aren't "quick-fixes," Melissa's solution focuses on a lifestyle change where the priority is not choking down a bite of broccoli but rather setting up healthy relationships with food and mealtime.
With a promise to make eating together and building nourishing habits less stressful and more fun, "The Picky Eaters Project" is an 8-week, go-at-your-own-pace, cumulative program created by Melissa to tackle picky eating – one step at a time. Throughout, Melissa addresses the root causes of her own kids' picky eating with simple weekly activities that encourage the development of a more adventurous palate. Filmed at the d'Arabian house just outside San Diego, the web series features the entire family as Melissa leads her four daughters (Valentine, 8; Charlotte, 7; Margaux, 6; and Océane 6) through her program. For more background on "The Picky Eaters Project" – from why Melissa embarked on this journey to how it all works – here's an introduction letter Melissa wrote and a video sneak peek into the series. Plus, The Principles of The Picky Eaters Project offers a week-by-week overview of the program.
With "The Picky Eaters Project," Melissa hopes to accomplish several goals:
take kids from picky to adventurous, expanding their palates and willingness to try new foods while also increasing the number of foods they like
eat more nutritious foods as a family and encourage kids to have a healthy relationship with food
end mealtime stress, celebrate the power of the family meal and establish it as a time to connect
set kids up for success and independence as they get older
In addition to the eight strategy-based videos that make up the core of the program, FoodNetwork.com/PickyEaters is a one-stop destination with robust content to help parents conquer picky eating. Here, viewers can access recipes featured in the series like Melissa's Four-Step Chicken: Kid-Friendly Piccata, Chicken Milanese, Baked Fish Sticks, Homemade Chicken Nuggets, and many more of her tried-and-true favorite recipes too.
With one-click, viewers can also download Melissa's toolkit of program materials and simple measurement tools to help track progress:
The List: The foods kids like listed by category (e.g., pasta) and variations (spaghetti, penne).
The Daily Victory File: A quick daily journal of two victories and one opportunity for improvement.
The Taste Test Book: Kids rate and comment on all the foods they try.
Melissa also shares more of her effective solutions and useful tips:
And, fun bonus extras include:
Meet the Family: Melissa introduces her family and explains their different degrees of pickiness.
Kitchen Tour: A peek into the d'Arabian kitchen where the series takes place.
Behind-the-Scenes Fun: Behind-the-scenes moments from "The Picky Eaters Project" shoot.
Melissa encourages viewers to share their progress, setbacks and questions on Twitter (@melissadarabian) and Facebook using #PickyEatersProject and @FoodNetwork.
To learn more about Melissa's background and current projects, check out her bio.