After spending hours (days?!) preparing a Thanksgiving feast, we're often staring at an abundance of leftovers when dinner's over. Yes, you can send your family and friends home with leftovers – of course. But, nevertheless, there always seems to be more – and more! – where that came from. So, how can you make the most out of your Thanksgiving leftovers? I'm glad you asked…
Remember, the most expensive ingredient in your house is the one you throw away, no matter how inexpensive it is when you buy it. So, leftover management is an important part of budget cooking – and that goes for Thanksgiving too!
My suggestion: Prevent leftover fatigue, by turning your leftovers into dishes with diverse flavor profiles. Your palate will be tricked for days into thinking it's getting something completely new each time. You'll find some of my favorites below.
But first, some tips for how to manage your leftover turkey:
When to Freeze: Don't wait until several days have passed before you hit the freezer with your leftover turkey. On Thanksgiving night, set aside enough turkey to feed your family two days of leftovers and then freeze the rest of the turkey immediately while it's at its freshest.
How Long Will it Last? Turkey will last for several months frozen, but plan to use the frozen turkey within a month or two, or risk forgetting all about it until you are moving things around to find space for your Easter ham. I like to put it on my calendar for the first week in January, which is about when I'm finally hungry again.
Now, for the recipes. Here are some of my suggestions for creative uses of you leftovers…
TURKEY
Turkey and Napa Cabbage Salad with Lime-Ginger Vinaigrette: This recipe is featured in my Associated Press "Healthy Plate" column. Get the recipe and more tips on turkey leftovers here.
Turkey Taquitos: Try this recipe (video included!) for a fun and simple Mexican twist on turkey leftovers. Serve with my Cranberry Salsa (below).
Turkey Pad Thai: Try this recipe (video included!) for an at-home version of a Thai favorite.
BBQ Sandwiches: Mix 4 cups chopped leftover turkey, 1 cup barbecue sauce, 2 minced garlic cloves and the juice of 2 limes in a slow cooker. Cover and cook on low 2 to 4 hours. Shred with a fork, then add cider vinegar and salt to taste. Serve on soft buns.
Sweet-and-Spicy Pitas: Toast 1 1/4 teaspoons curry powder in a skillet 20 seconds; let cool. Mix with 2 tablespoons cranberry sauce and 1/2 cup plain yogurt in a bowl. Add 2 cups chopped leftover turkey and 1/4 cup each chopped celery and scallions. Season with salt and add some toasted walnuts, if desired. Stuff into pitas lined with lettuce.
Make Toast Toppers: Mix your leftover turkey with flavorful pantry staples to create delicious toast toppers, which are great as an after-school snack or as tonight's appetizer. Simply toast up baguette slices (I like to buy baguettes in the day-old bread aisle for half the price; they freeze well too, so I always have on hand for an impromptu get together) and pile high with one of these turkey toppers. Just substitute your turkey meat for the chicken listed in these recipes and you'll have three distinct flavor profile options – Italian, Mexican, and BBQ. You can also serve any of these mini-recipes sandwich style or over a bed of leafy greens – great for work and school lunches.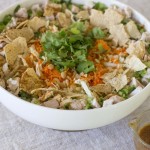 CRANBERRY SAUCE
Mexican-Inspired Salsa: This Cranberry Salsa recipe (video included!) injects new flavor into leftover cranberry sauce and pairs perfectly with my Turkey Taquitos (above).
Quick Crumble Mix: 1 cup cranberry sauce, 2 pounds sliced peeled apples, 2 tablespoons each flour and granulated sugar, a pinch of salt and 1/2 teaspoon vanilla in a buttered baking dish. Dot with 2 tablespoons butter. Mix 1 stick softened butter, 1/2 cup brown sugar, 3/4 cup each flour and chopped pecans, and a pinch each of cinnamon and salt in a bowl. Crumble over the fruit and bake at 375 degrees F until browned, 40 to 45 minutes.
5-Minute Appetizer: Toast baguette slices under the broiler. Top with cream cheese or goat cheese and dollop with cranberry sauce.
Simple Sundaes: Heat 1 cup cranberry sauce in a saucepan. Spoon over scoops of vanilla ice cream.
Festive Cocktails: Stir a dab of cranberry sauce into a glass of seltzer, or mix with sparkling wine for a kir royale. Here's my recipe for Cranberry-Orange Spritzers.
DIY Fruit Yogurt: Spread a 1/2-inch layer of cranberry sauce in an empty yogurt container or shallow cup; top with plain Greek yogurt to make your own fruit-on-the-bottom yogurt.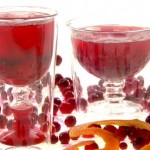 POTATOES
Desserts: Whip up my Chocolate-Yam Marble Cake or my Sweet Potato Empanadas for a simple but special way to use up your leftovers.
Sweet Spread: Mash a stick of softened butter with 1/2 cup mashed sweet potatoes and 1 tablespoon brown sugar or maple syrup (skip this if your potatoes were already sweetened). Chill until firm, then spread on scones or waffles.
Stuffed Peppers: Cut off the top inch of 4 green bell peppers; scoop out the seeds. Mix 3 cups mashed potatoes, 8 slices crumbled cooked bacon and 3/4 cup shredded cheddar cheese in a bowl; stuff into the peppers. Top with more cheese, then replace the pepper tops. Arrange in a baking dish, cover with foil and bake about 45 minutes at 375 degrees F.
Potato Pockets: Combine 1/2 cup mashed sweet potatoes, 3 ounces softened cream
cheese and 2 1/2 tablespoons brown sugar. Dollop in the center of wonton wrappers, moisten the edges with water and fold into triangles, pressing to seal. Fry in hot vegetable oil and dust with confectioners' sugar.
Magic Muffins: Mix 1/2 cup each sugar and unsweetened applesauce, 2 beaten eggs, 3/4 cup mashed sweet potatoes and 1/3 cup vegetable oil in a bowl. In another bowl, whisk 1 cup all-purpose flour with 1/2 cup whole-wheat flour, 1 teaspoon baking powder, 1/2 teaspoon each baking soda and salt, and 1 teaspoon pumpkin pie spice. Mix the potato mixture into the flour mixture, then stir in some mini chocolate chips. Spoon into greased mini muffin cups. Bake 12 to 13 minutes at 375 degrees F.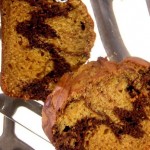 AND, DON'T FORGET TO CAPITALIZE ON THE POST-HOLIDAY CLEARANCE!
While everyone is shopping the malls on Black Friday, don't forget about the grocery store clearance. Stock up on non-perishable Thanksgiving items right after the holiday and use them year-round. Substitute or add whole berry cranberry sauce in your muffins or cobblers.  Or add a spoonful of nutritious pumpkin puree to your hot cocoa, smoothies and stews, or stir a dollop into Greek yogurt.
WHICH LEADS ME TO…MY LOVE AFFAIR WITH PUMPKIN PUREE.
In this FN Dish blog post, you'll find out that I love pumpkin (year-round!) and that I stock up for the WHOLE YEAR the weekend after Thanksgiving when it's on major sale. Plus, I share three of my favorite quick and simple recipes featuring pumpkin puree: Pumpkin-Date Smoothie, Pumpkin-Pecan Yogurt Parfait, and Iced Pumpkin Soy Vanilla Latte.
For a fun holiday cooking project to do with the kid, try my Pumpkin Cake Pops!
And, in this Associated Press "Healthy Plate" column, I encourage you to think outside the box and use nutritional canned pumpkin for my Pumpkin Peanut Curry Bisque (plus, even more ideas for how to use that pumpkin puree!).
LOOKING FOR RECIPE IDEAS AND CREATIVE INSPIRATION FOR UPCOMING HOLIDAY GATHERINGS?
Here are my suggestions – with more than 60 dishes for the entire feast: appetizers, soups, salads, entrees, potatoes, vegetables, and desserts.