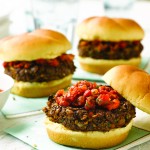 Fans of my Food Network show "Ten Dollar Dinners" know how I feel about beans: They're healthy, versatile, downright cheap, and therefore, a must-have pantry item. Personally, I like to buy dried beans and cook/freeze them for easy use.
A one-pound bag of dried beans costs about $1 and cooks up four to five cans' worth of beans. Even if you buy your canned beans for a buck a pop, you get three extra cans of beans for free if you go for dried beans instead of precooked ones. And cooking dried beans couldn't be simpler!
Since the "how do I cook dried beans" question is definitely one of the most frequently asked among fans, I wanted to share the bean secrets right here on my blog.
And, do yourself a favor – always keep beans handy…even if you opt for the canned variety, which are still an economical convenience food item though pricier than dried beans. Not only do beans add a nice hit of protein and fiber to round out main dishes or to star in a meatless meal, but they're also a great go-to ingredient for soups, chili, dips, salads, etc. I like to keep black beans, lentils and at least one white bean variety on hand at all times. Now that I mention lentils, just a note: Lentils do not need to soak, so they can be a great substitute for the dried beans if you're in a rush.
How to Cook Dried Beans…
1. Soak the beans overnight.
2. Simmer the beans in a large pot of water until they're just tender (1 hour on average, though if they have been sitting on a shelf for a long time it could take up to 2 hours). Don't boil the beans or use salt (both can cause the skins to slip off) and take care not to overcook them.
3. Drain the beans and allow them to cool. Once cooled, divide the beans into quart-sized resealable freezer bags. About 1.5 cups of beans per bag is good—that's about how much is in a can. Freeze the cooked beans (don't forget to label the bags so you know what kind of beans are in each).
Then, the next time you need beans, just pull a bag out of the freezer. Thaw first if using in a salad or for a sauté; if they're going into a soup or stew, it's fine to add them frozen.
How to Use Beans… 
Use beans to stretch a protein.

Beans are a great way to bulk up an uneaten piece of chicken or sausage from the night before. Add some rice or bulgur for a lighter dish.
Serve beans as a side dish.

Beans are filling and nutritious and are a great way to get away with serving smaller pieces of expensive protein such as salmon, shrimp, or steak.

Make beans an appetizer.

Serve on toasted baguette slices for crostini or with crudités for a homemade take on hummus. This is a great trick for entertaining since you offer guests a hearty appetizer with protein to fill them up!

Incorporate "bean" night once a week.

Make beans (or any other frugal protein – whole-grain pasta, eggs, lentils, etc.) the star of your dinner for a meatless meal that will fill you up but will also keep costs down.
Recipes… 
Here are some of my favorite bean recipes from the show.
And, there are lots of great recipes featuring beans from my cookbook, including:
Black Bean Nacho Burgers

(A vegetarian delight fit for a meat lover, featured in Shape magazine)
White Bean Tapenade Crostini

California-Style Bruschetta

Corn and Black Bean Pico

White Bean, Leek and Bacon Soup

Roasted Garlic and White Bean Chili

Slow Cooker Tortilla Soup

Quick Black Bean Chili

Toasted Sesame and Two-Bean Salad with Lime Vinaigrette

Garlicky Shrimp and White Bean Gratin

And even in smoothies like my

Black Bean, Chocolate, and Banana Smoothies