Spaghetti Squash and Spinach "Lasagna"
1 spaghetti squash, cooked
2 links mild Italian turkey sausage, casing removed
1 25-ounce jar of marinara sauce
1 cup part-skim ricotta cheese
1 egg
3/4 cup frozen chopped spinach, thawed, excess water blotted
2 teaspoons dried Italian herb seasoning
1/4 cup grated Parmesan cheese
1/2 cup grated mozzarella cheese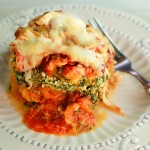 Instructions:
Preheat oven to 375 degrees.
Cut the spaghetti squash in half, remove the seeds, and scoop out all the stringy flesh into a bowl.  In total, you will have approximately 5-6 cups of squash.
In medium skillet over medium heat, cook the turkey sausage until golden, breaking up the sausage with a spoon as you go.  dd the marinara sauce, stir, remove from heat and set aside.
In a small bowl, mix together the ricotta cheese, egg, spinach, Italian herbs and Parmesan cheese and set aside.
Spray a 2-quart baking dish liberally with nonstick spray. Place half the sauce in the bottom of the baking dish. Top the sauce with half the squash, followed by all of the ricotta cheese mixture and half of the mozzarella cheese. Top with remaining squash followed by remaining sauce mixture.
Bake for 45 minutes, topping with remaining mozzarella cheese about halfway through baking time.  Let the casserole sit for ten minutes before serving.