1 medium eggplant
Olive oil for brushing
6 ounces organic firm tofu
1 teaspoon herbes de provence, or dried oregano
½ cup shredded cheese
2 cups prepared marinara sauce, warm
Salt and pepper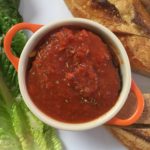 Instructions:
Slice eggplant into ½" rounds, season with salt and pepper and brush with olive oil.  Cook over medium heat in a nonstick pan until tender, about 6 minutes per side.  Slice the tofu into 4 slices and brush with olive oil, and sprinkle with herbes de provence and salt and pepper.  Cook in nonstick pan until barely golden on each side, about 3 minutes per side.  Use for ramekins for layering:  spoon a small amount of marinara into each ramekin.  Layer in eggplant, tofu, eggplant, cheese, and sauce.  Serve right away or keep warm in the oven for up to 30 minutes at 300 degrees.