½ cup frozen cranberry juice concentrate
¾ cup plain yogurt
2 tablespoons sour cream
¼ cup vanilla ice cream (see cook's note)
2 cups low fat milk
½ teaspoon ground ginger
Whipped cream, for garnish
Mint leaves, for garnish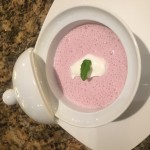 Instructions:
Blend cranberry juice concentrate, yogurt, sour cream, ice cream, milk and ground ginger in a blender until smooth and creamy.  Pour into a bowl and top with a small dollop of whipped cream and a mint leaf for garnish. (Recipe adapted from Holland America's version served on the Veendam, New England cruise.)
Cook's note:  Can be either an appetizer or dessert depending on how much ice cream you add!
(Recipe adapted from Holland America's version served on the Veendam New England Cruise)